Games Atelier: Tangent is a game design program at OCAD University. Students develop critical game design skills through weekly game jams structured around a card-based creative prompting system.
Overview
View the complete Instructions for the game at atelierunicorn.com
Games Atelier: Tangent is a semester-long game design course for second year students in the Digital Futures program at OCAD University. The course develops rapid ideation and prototyping skills through a playful "Game Jam a Week" structure guided by a brainstorming card deck adapted from the system developed for Reality.
Each "round" of the game begins with the Atelier Leaders issuing a project-making Challenge. The particular constraints of these Challenges vary from week to week. Some Challenges are solo, while others are for teams of 2 or more. Within the constraints of the Challenge, students work alone or in small groups o create a unique conceptual framework (or "prompt") for their projects, using custom-made Tangent game cards. This framework specifies formal, technical, and thematic elements that students must incorporate into their game projects (see example prompt below).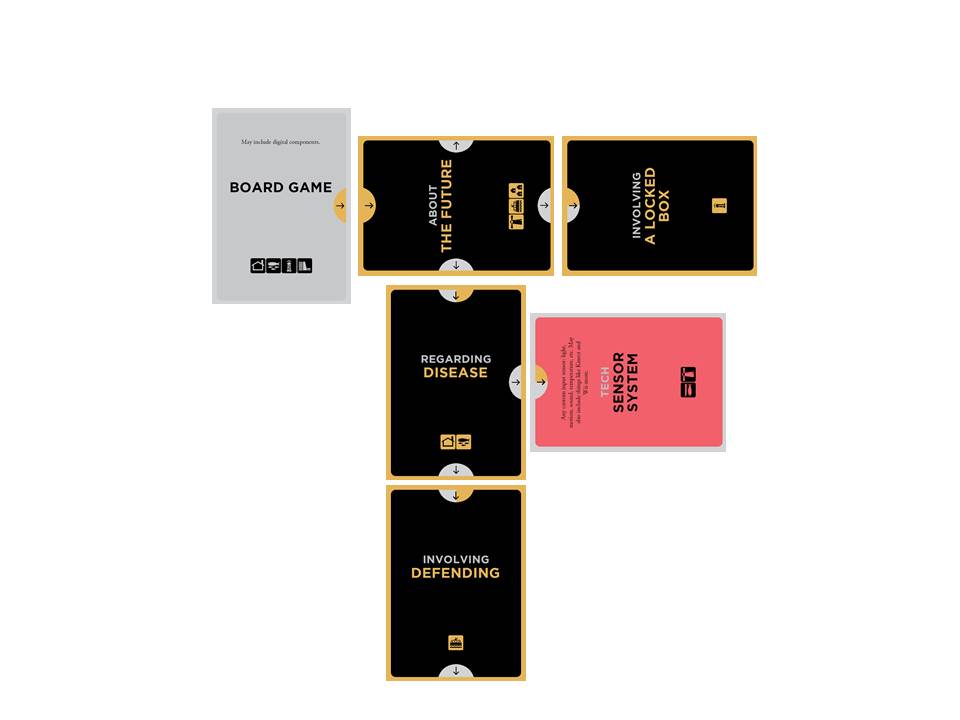 "Make a Board Game about the Future regarding Disease involving Defending and a Locked Box and using a Sensor System"
Once students come up with a prompt they find inspiring, they have one week to create, document (via a blog post), and present their work. Once they have presented their finished project, students are scored, a winner is selected, and wooden "unicoins" are distributed to students based on their performance. These coins can then be used as units of exchange among the students: final grades will factor in the total amount of physical coins a given student has at the end of the semester.
The initial run of Games Atelier: Tangent produced over 40 unique games (see the gallery above, or check out the links to player documentation on the game's Twitter feed, @atelierunicorn), several of which have gone on to have life outside the class at festivals and in online contexts.