Reality Ends Here is my PhD project. You can read more about it in my
dissertation
.
Reality Ends Here won the Impact Award at the 2012 IndieCade Awards. Read more about the award here.
Reality Ends Here is a pervasive media-making game designed to increase serendipity, social discovery, and collaboration among students in the disparate divisions of the USC School of Cinematic Arts. It employs a wide range of technologies and practices, from a game system driven by digitally-connected collectible cards to a web interface integrated with Facebook, Twitter, YouTube, and other social media platforms.
Press coverage, interviews, and blog posts about Reality Ends Here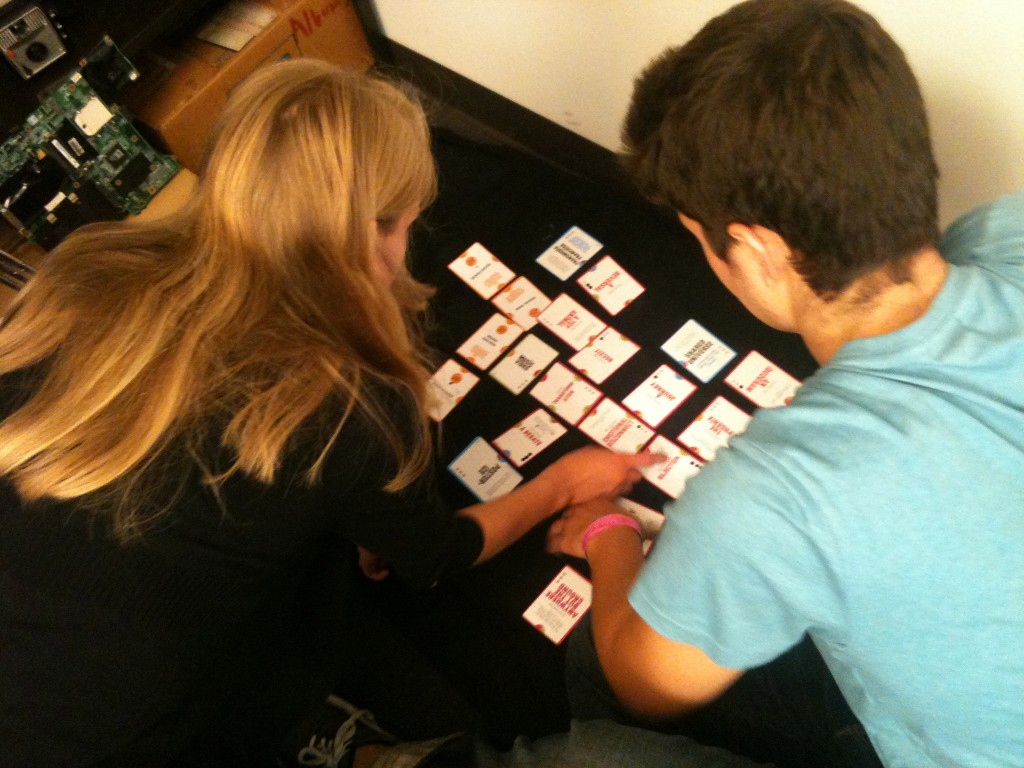 Gameplay in Reality Ends Here takes place in every corner of its players' lives, as they collect, share, trade, and combine game cards in order to generate creative prompts which are then used to guide the making of unique media artifacts and real-world events. By sharing the resulting creative works through the social media platform at the center of the game, players connect with one another across disciplinary and institutional boundaries and unlock customized "trailheads" leading to intimate and offbeat encounters with SCA alumni, artists, and other industry professionals. Launched in August of 2011, Reality Ends Here continues to have a tangible positive impact on the culture of the SCA, bridging the gaps between traditionally siloed disciplines and creating an atmosphere of artistic experimentation. Henry Jenkins describes the game as follows:
I've seen lots of discussion over the past few years about the potentials of using ARGs for pedagogical purposes. But, this is the first time I've seen such a large scale experiment in integrating ARG activities across an entire school to orient entering students to a program and to serve a range of instructional goals. The passion the game is motivating in USC students is palpable. And I can tell you that many of the faculty, who have gotten pulled into the game through one play mechanic or another, are feeling a real pride in their school for its willingness to embrace this kind of experimentation and innovation. (henryjenkins.org)
A Procedural Creative Prompting System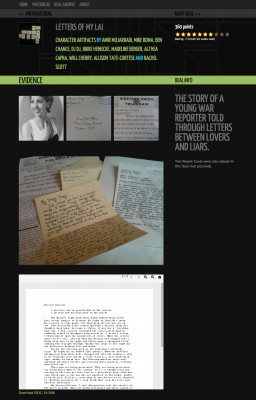 Reality Ends Here is driven by a card-based "procedural prompting system": by sharing, trading, and combining cards, players create challenges within the constraints of a connectivity play mechanic.
Through this card interaction, players generate creative prompts of varying complexity based on the number of cards they manage to integrate into their Deal. These prompts then function somewhat like Fluxus "event scores", guiding the actual creative production phase of the Deal by specifying the kinds of media to be used and a range of ideas, physical objects or places, and narrative or figural elements (collectively referred to as "properties") that players must incorporate into their project.
With the complete set of cards numbering in the several hundreds, the number of possibile combinations is practically endless, limited only by the specific cards that a player or group of players has access to. Since players start the game with only 9 cards (7 random and 2 which they select themselves from a draw of 10), trading, pooling, and earning new cards through gameplay is essential. This face-to-face social interaction strengthens in-game player bonds and further accelerates creative serendipity and discovery.
Once players complete a project, they submit their media artifacts through the website, then "justify" their work on video, explaining how they satisfied the conditions of their Deal. All this material — including a clickable list of cards used in the Deal, the completed project, the justification video, and the list of those who collaborated on the project (including links to their profiles) — then appears live on the game site, sharable with the world.
Some highlights from the game so far include: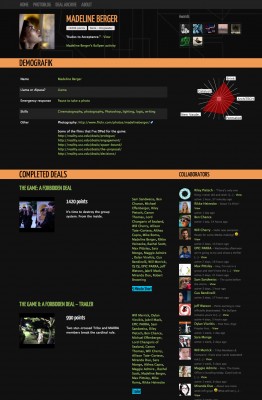 The website also serves as a social networking platform for SCA students, faculty and alumni. All players have profiles on the site which aggregate all their Deal-making activity and status updates, along with displaying any photos they have submitted to the site. Profiles also include an evolving data visualization that is generated based on the kinds of Deals and activities that the player has been involved in.
While most of the site is publicly viewable, including player profiles, some of the social networking functionality is semi-private, primarily because we wanted to create a kind of exclusive workshopping space (which we've named The Bullpen after a historic cinema school workshop space here at USC) where players could feel free to brainstorm, ramble, and even trash-talk "behind the curtain." Other features not immediately visible to non-players include the Leaderboard, which tracks scores on a weekly and overall basis in a variety of dimensions, the Card Lookup feature, which players can use to view and discuss individual cards in the archive, and the Members Directory, which players can search by name or keyword when looking for collaborators or new connections.
Informal, Optional, "Secret"
The game is not mandatory for SCA students. It's not even openly publicized at the school. In fact, we've gone to lengths to try to keep it under the radar. The Reality Committee, the benevolent group behind this project, wouldn't have it any other way. The game is meant to belong to the players, not the other way around. Players have discovered it on their own, picking up on clues we've left around the campus — clues hidden in old cameras, left near our mysterious flag which intermittently hangs off the third floor balcony, or hanging from LED throwies we've stuck to the underside of staircases. One by one or in groups, they have come to the Game Office, gone through the initiation rites, received their game cards and website logins, and started playing.
Would we have had engaged all 180 of the freshman students if we had made the game mandatory? Certainly. But we doubt they would have been as committed, or that the game would mean as much to them. Students discover this game the same way they discover things like the college radio station. They hear about it, and if they like the sounds of it, they show up and pour their hearts into it. And since everyone who comes to the School of Cinematic Arts is in some way interested in making media — or at least talking about making media — the game has a natural pull.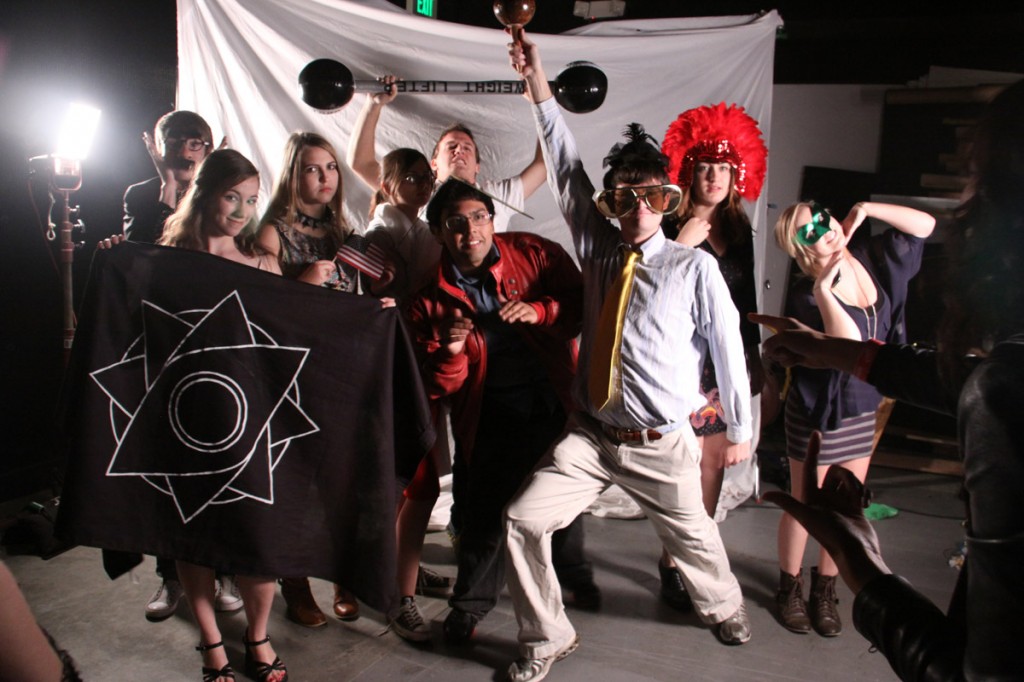 To learn more, check out the public face of the site here, or follow us on Twitter. If you're interested in participating — or just in having a peek into what's going down in the Bullpen — send an email to remotedevice@gmail.com or contact @remotedevice on Twitter.